'Yangji Pine Ski Resort' located 40 minutes from Incheon and Seoul is one of the representative tourist course for foreigners in Korea.
This place is crowded with many foreign tourists everyday who visit for one day tour since it is close to Seoul.
Skiers are very impressive to see skiers from Southeast Asia such as China, Japan, Thailand, and the Philippines hang out with Western skiers and Korean skiers and taking ski lessons together.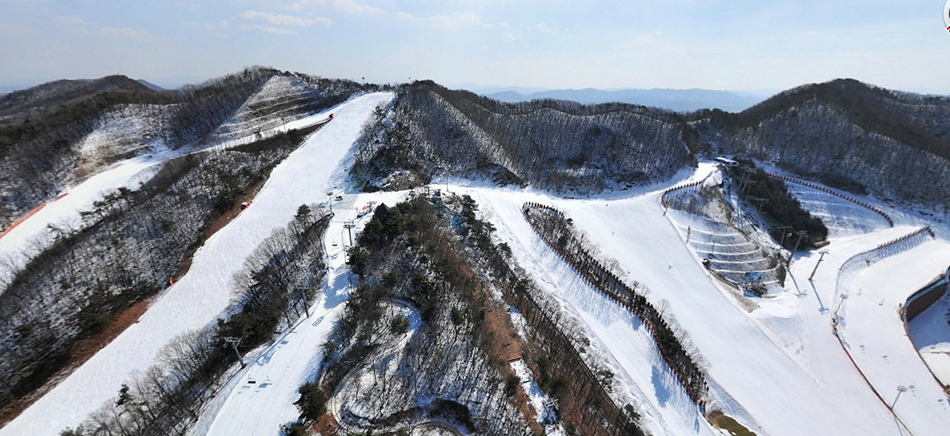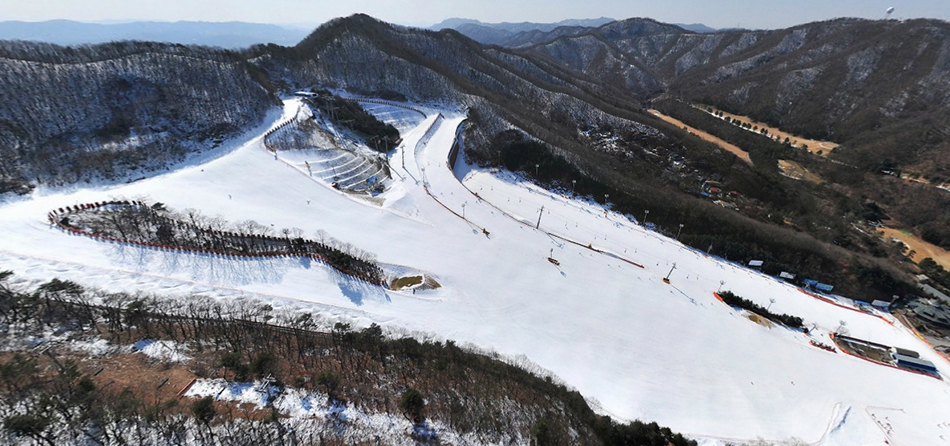 The resort shows its beauty throughout the seasons by the harmony of thick forest and beautiful mountains.
Yangji Pine Resort is equipped not only with various ski courses, but also an international scale golf course with 27 holes surrounded by thick forest.
Yangji Pine Resort is equipped with 6 lifts for the Ski Valley slope and 6 other lifts for the Super Hundai Ski 7.
Among the various ski courses of the Resort, Abegg course is a popular destination as a great course for enthusiasts because they can make use of advanced technique.
Snow park is the slope recognized as the flower of Yangji Pine Resort, and in another name it's called 'Rider's dream' where professional skiers and boarders can enjoy together.
9 various slopes in Yangji Pine Resort with 5~35 degree slopes that can satisfy not only beginners but also professionals.
Yellow course is the first slope in the country which has the structures for beginners and is suitable for beginners due to its stable and gentle gradient.
And Blue-Orange course which is located in the middle of the slopes is good for intermediate level.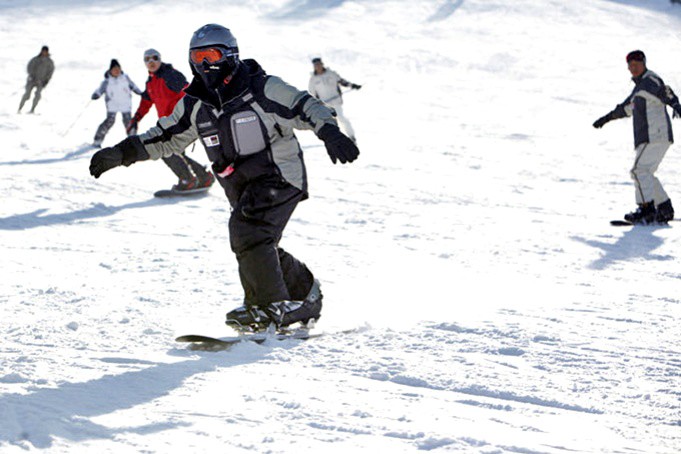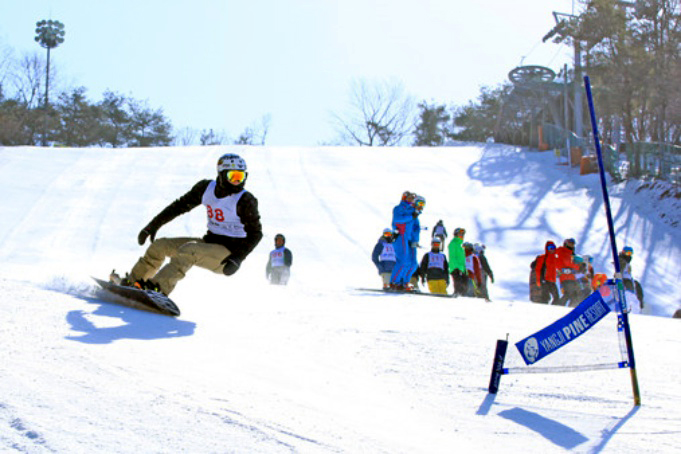 The Challenge course has its reputation since 'Korean Reunification's Cup National Alpine Ski Competition' is held every year as a training program of winter sport game of Korea.
Yangji Pine Resort is trying to show many interesting spectacles for visitors and invite famous professional riders from Japan to show, various type of rider shows and snowboarding competition.
The resting place in the observatory also present the visitors a fabulous view and also it is a good resting place.
There is a resting place on the observatory and it is good place to relax and take a rest for a moment.
Snow Sleigh Park and a playground are available for the whole family to enjoy and to have some resting time.
16 people can enjoy the snow sleigh at the same time and without having to go on foot, people can use the Sunkid lift for convenience.
Yangji Pine Resort provides professional slopes for the beginners, intermediate and professional skiers during night time.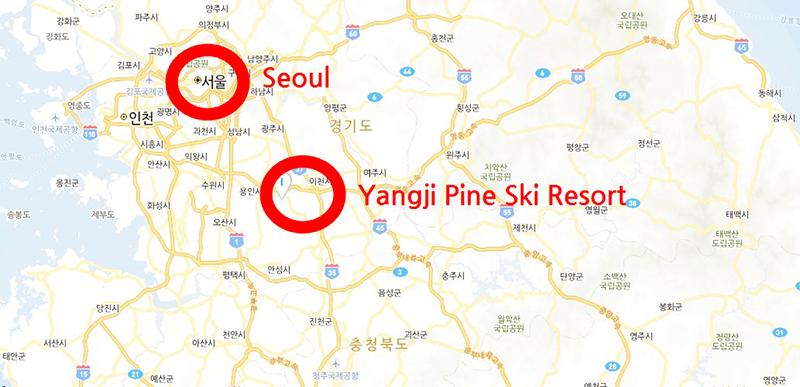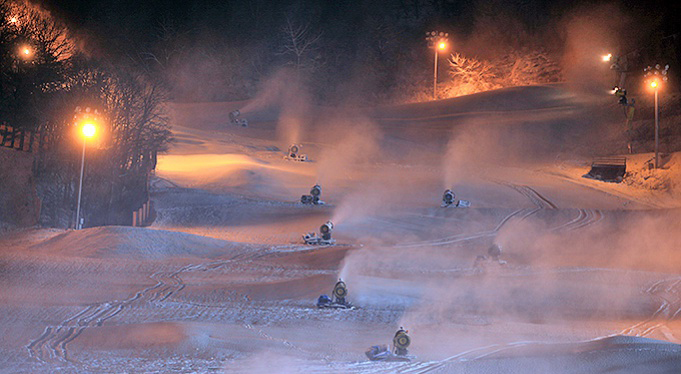 2016 Yangi pine ski resort information
Yangji Pine Resort Other Facilities:
Swimming pool, sledding hill, bowling alley, billiards, singing room, bunji jumping, artificial rock-climbing, Korean/Western restaurants, daycare center, sauna, health club, PC room, seminar facilities, gift shop
Yangji Pine Resort Nearby Attractions
Korean Folk Village, Everland, Icheon Pottery Village
Yangji Pine Resort Transportation
From Nambu Bus Terminal in Seoul, take the bus to Jincheon (every 20 minutes from 06:15). Get off at Yong-in Bus Terminal and use the free shuttle bus to the resort. 
Yangji Pine Resort Shuttle bus Services
- Pine Resort Free shuttle bus should be operated by your reservation.
- You should make a reservation until 6 pm(Mon-Sat) the date before you use.
- If you want to take a free shuttle bus on Sunday or Monday, you should be confirmed until 1pm on Saturday.
- You can call 031-329-9440~1 if you want to make a reservation.
- Pine Resort Free shuttle bus could not be operated if under 10 people reserved. Please double check before you leave.
- If have any question and more detail, please call +82-031-329-9440~1.
Yangji Pine Resort booking
Pine Resortel (Tel. 02-516-7161), Pine Youth Hostel (3/4/6 people per room, Tel. 82-2-540-6800)
Yangji Pine Resort Package tour Itinerary
07:30-08:00 Hotel Pick up
08:00-09:00 Arrive at Rental shop (Yang –Ji Resort)
09:00-09:30 Rent ski equipment (Ski clothes, gloves and accessories etc.)
09:30-09:45 Arrive at the Korea Ski resort
09:45-10:00 Rent ski equipment (Ski gears)
10:00-10:40 Beginner Ski Lesson
10:40-15:30 Free time
15:30-16:30 Move to Seoul
16:45-17:30 Amethyst or Ginseng Center
17:30-18:00 Lotte Hotel(Myeongdong)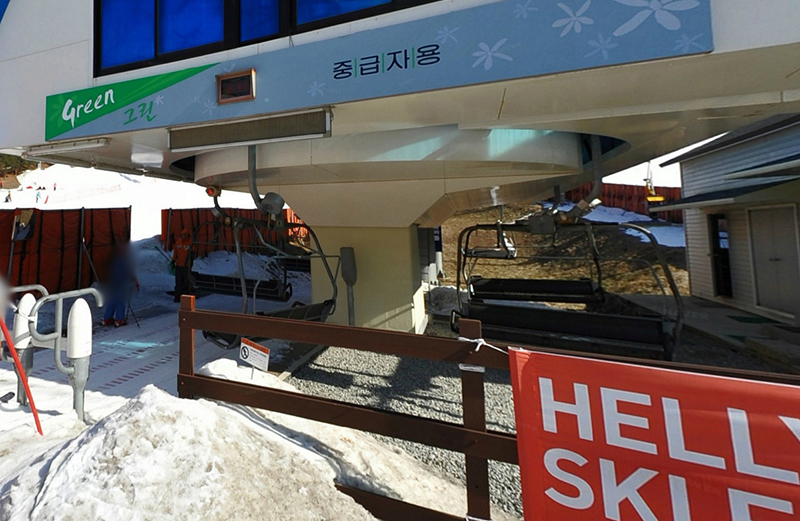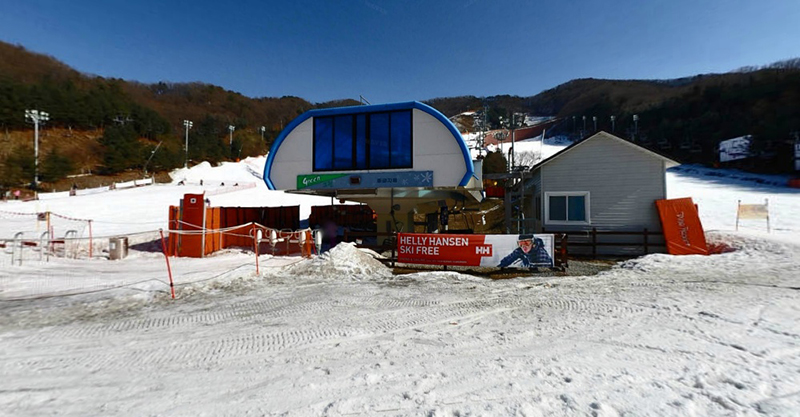 Yangji Pine Resort Lift operation hours
Types
Type of Lift Passes / Operation Hours
Single Pass
Morning
Afteroon
Evening
Night
All-Night
09:00~13:00
13:00~17:00
18:30~23:00
22:00~02:00
24:00~05:00
Combined
Pass A
Morning+Afternoon
Evening+Night
Night+All-night
09:00~17:00
18:30~02:00
22:00~05:00
Combined
Pass B
Afternoon+Evening
Evening+Night+All-night
13:00~22:30
18:30~05:00
Yangji Pine Resort Rental price
(KRW)
Types
Lift
Ski Rental
Board Rental
Adult
Child
Adult
Child
Adult
Child
Single Pass
50,000
31,500
30,000
21,000
32,000
24,000
Combined Pass A
63,500
41,000
36,000
25,000
45,000
33,000
Combined Pass B
75,000
52,000
39,000
28,000
47,000
36,000
Yangji Pine Resort Snow Sled price
(KRW)
Daytime
Evening
Ault
Child
Ault
Child
10,500
8,500
8,500
7,000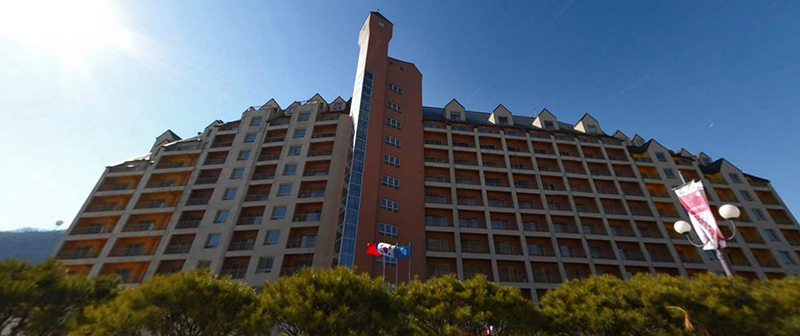 Yangji Pine Resort price
(KRW)
Type
Price
Detail
Person
75.3 ㎡
292,000
1bathroom
4
113.1㎡
414,000
1room, 2bathroom
5
137.8㎡
483,000
2room, 2bathroom
6
160.0㎡
554,000
3room, 2bathroom
7
163.3.㎡
554,000

1floor : 1room, 1bathroom
2floor : 1room, 1bathroom

7

228.1㎡

760,000

1floor : 2room, 1bathroom
2floor : 2room, 1bathroom

8
Yangji Pine Resort Ski Slope spec
| | | | | |
| --- | --- | --- | --- | --- |
| Type | Length(m) | Level | Declivity(Slope) | Remarks |
| Yellow Course | 300 | Beginners | 7 | Beginners Only |
| Orange Course | 340 | Intermediate | 12 | Intermediates Only |
| Blue 1 Course | 750 | Intermediate & Upper | 25 | |
| Blue 2 Course | 850 | Upper | 18 | |
| Green Course(A/B/C) | 580 | Intermediate | | |
| Avec Course(Pink) | 590 | Intermediate & Upper | 20 | |
| Challenge Course(Black) | 800 | Top | 32 | A technical course with hard undelations |