Pyeongchang Alpensia Ski Resort relatively takes a long period of time to get to and is located far away from the metropolitan area making this ski tour course difficult and impossible for a one day journey.
Yet, these type of drawbacks still has its advantages too, since the slopes are larger than the numbers of the visitors, there is much skiing to be enjoyed.
Alpensia Ski resort has a total of 7 slopes. With 1 slope for snow sleighing and 6 slopes for skiing, snowboarding course (elementary, and intermediate level (Bravo), Advance level (Charlie, Delta, and Echo), Senior Advance level (Fox Trot) course).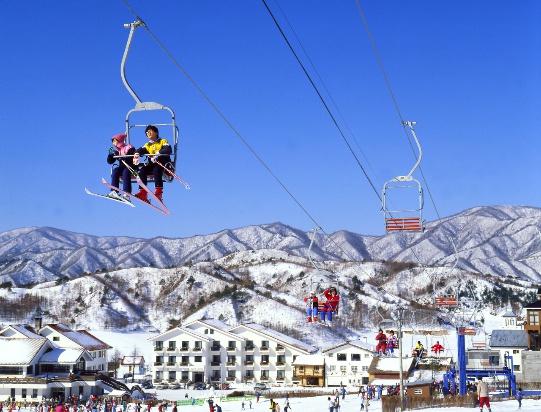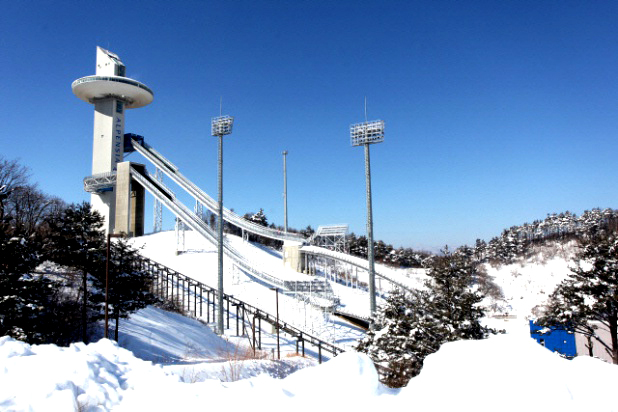 Alpensia ski resort's average winter temperature is about -3.1 degree Celsius and has a good zenith seoljireul to manage a good environment.  
To meet the best standard for the customers, employees are doing the best of their efforts committed to work every night with all their might for progress. 
Around the Gangwon-do Pyeongchang Alpensia resort the first class hotel, Inter Continental Alpensia Pyeongchang resort was voted as the "Best Ski Hotel" in 2013.
In 2010 the International Olympic Committee (IOC) did an on-site inspection in the evaluation team and in 2011 Gangneung ISU at the junior figure skating championship delegate participants used the Alpensia resort.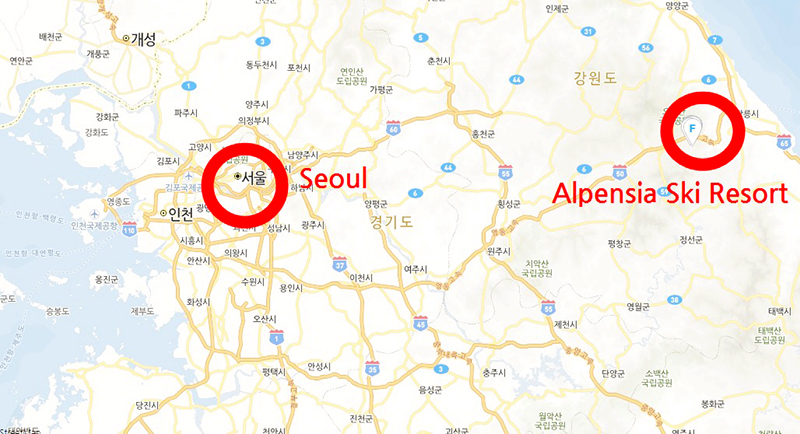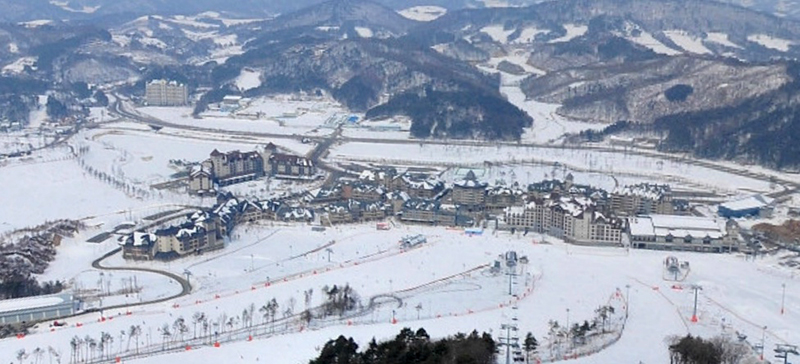 Alpensia ski resort consist of all premium facilities and although the price cost is high, this ski resort more than other ski resorts has a reasonable and flexible pricing.
In addition, the Pyeongchang, Alpensia ski resort is in a variety of movies, and is recognized as a key location to utilize in filming in a variety of programs.
In Korea, the largest successful film "National athlete", and popular program "Infinite Challenge" received much lighting and in 2018 where the current Mecca Winter Olympics is being held is getting a lot of attention. Here you will be able to experience various winter sports such as ski or boarding, ski jumping tower, baieseullon and many other winter sports.
This year, to receive much more attraction from tourists, Alpensia resort is bringing in a new festival.  
It is one of the 3 world's winter festival hosting the "Harbin Snow and Ice Daesegye".
This festival, which continues until late February 2016, China Harbin ice and snow festival, arists of Habin, China, Poetry, are certified with direct participation of 300 people display their high level of skills
Suwon hwaseon Fortress of 660,000m2 site of Tiananmen square, The Taj Mahal, Colosseum of World's most famous building, including more than 30 rigid of a dozen giant snow and ice formations are displayed.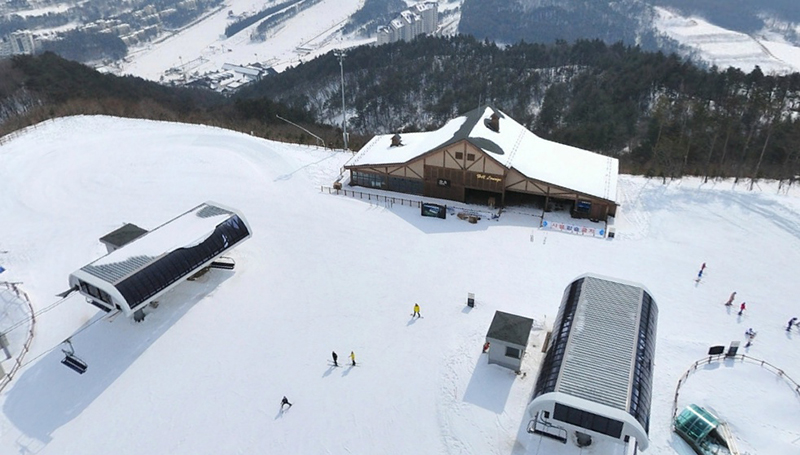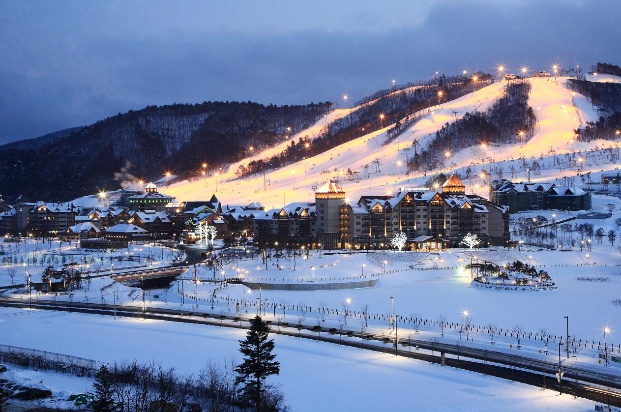 2016 Alpensia Ski resort information
Other Facilities:
Sports & Leisure
Troon Golf & Country Club, Alpensia 700 Golf Club
Ocean 700
Ski & Snowboard, Alpine Coaster
Ski Jump Tower, Monorail, Main Stadium, Cross-country, Biathlon
Culutre & Arts
Convention center, ecological center, music tent, concert hall, retail village, Daegwallyeong Ski History Museum
Regular Seasons (Seoul-Alpensia)
Alpensia Ski resort Nearby Attractions
Odaesan National Park, Daegwallyeong Samyang Ranch, Korea Botanic Garden
Alpensia Ski resort Transportation
From Seoul Express Terminal, take an intercity bus to Hoenggye Intercity Bus Terminal.
From Hoenggye Bus Terminal, take a taxi to Alpensia Resort (20min).
Alpensia Ski resort Shuttle bus Services
Regular Seasons (Seoul-Alpensia)
1. Sadang Station (Seoul Subway Line 4), Exit 1.
Go 50m forward to a public parking lot.
Board the Alpensia shuttle bus at the bus stop in front of the parking lot. (Departure time: 08:00)
2. Apgujeong Station (Seoul Subway Line 3), Exit 6.
Board the Alpensia shuttle bus at the parking lot next to Hyundai Department Store. (Departure time: 08:30)
3. Jamsil Station (Seoul Subway Line 2), Exit 4.
Board the Alpensia shuttle bus in front of Lotte Mart. (Departure time: 09:00)
Peak Seasons (Seoul-Alpensia)
Summer: July 16-August 15
Additional shuttle bus service
Sports Complex Station (Seoul Subway Line 2), Exit 1.(Departure time: Fridays 19:00, Saturdays 13:00)
Alpensia Ski resort booking
Intercontinental Resort, Holiday-Inn Resort , Holiday-Inn Suite((Tel. 033-339-0000)
Alpensia Ski resort Package tour Itinerary
07:30-08:00 Hotel Pick up
08:00-11:00 Arrive at Rental shop (Alpensia Korea Ski Resort)
11:00-11:30 Rent ski equipment (Ski clothes, gloves and accessories etc.)
11:30-11:45 Arrive at the Korea Ski resort
11:45-12:00 Rent ski equipment (Ski gears)
12:00-12:40 Beginner Ski Lesson
12:40-16:30 Free time
16:30-19:30 Move to Seoul
19:45-20:30 Amethyst or Ginseng Center
20:30-21:00 Lotte Hotel(Myeong dong)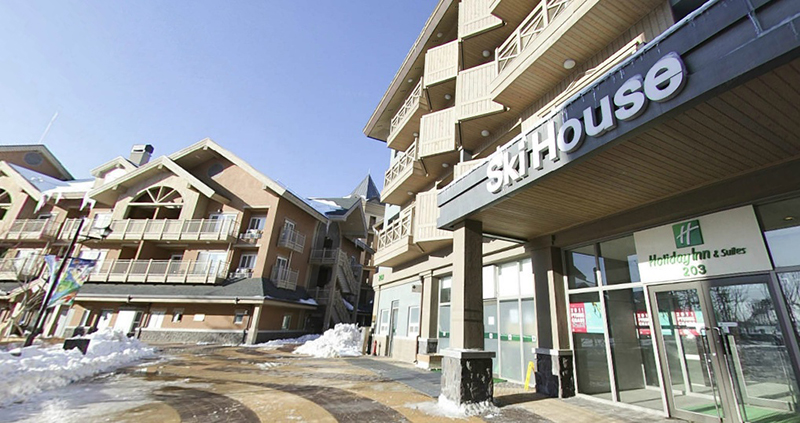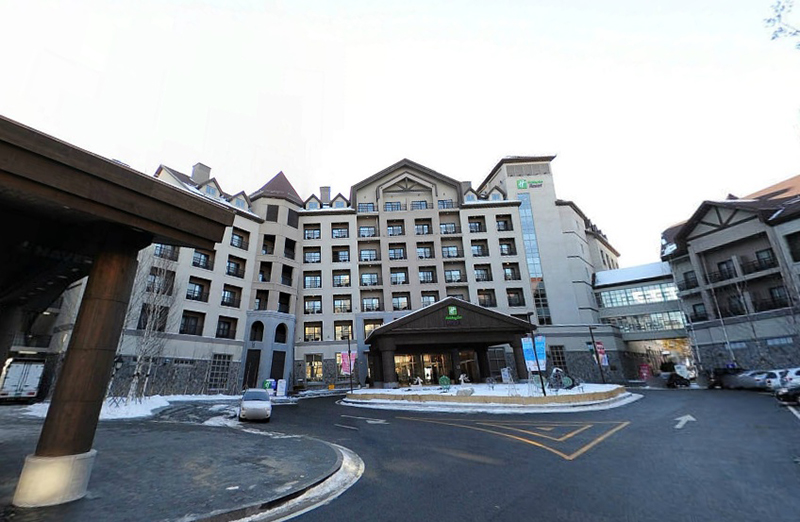 Alpensia Ski resort Lift Operation hours
Type
Morning
Afteroon
Night
Morning + Afternoon
Afternoon + Nignt
All Day

15/16

08:30~12:30

12:30~16:30
18:30~22:00
08:30~16:30
12:30~16:30
18:30~22:00
08:30~16:30
18:30~22:00
Alpensia Ski resort Lift price
(KRW)
Type
Morning
Afteroon
Night
Morning + Afternoon
Afternoon + Nignt
All Day
One-time
Adult
52,000
68,000
40,000
68,000
80,000
10,000
Alpensia Ski Rental price
(KRW)
Type
Morning
Afteroon
Night
Morning + Afternoon
Afternoon + Nignt
All Day
Adult
24,000
28,000
28,000
38,000
Child
19,000
22,000
22,000
29,000
Alpensia Borard Rental price
(KRW)
Type
Morning
Afteroon
Night
Morning + Afternoon
Afternoon + Night
All Day
Adult
26,000
33,000
33,000
43,000
Child
20,000
25,000
25,000
33,000
Alpensia Ski Wear price
(KRW)
| | | | | |
| --- | --- | --- | --- | --- |
| Type | Morning + Afternoon Night | Morning + Afteroon | Afternoon + Night | All Day |
| Jacket & Pants | 10,000 | 20,000 | 20,000 | 25,000 |
| Jacket or Pants | 7,000 | 14,000 | 14,000 | 20,000 |
Alpensia Snow Sled price
(KRW)
Detail
3
5
Half Day
FEE
Adult
10,000
15,000
20,000
Child

8,000

10,000
15,000
Alpensia Ski resort Ski Slope spec
(m)
| | | | | |
| --- | --- | --- | --- | --- |
| Average | Alpha | 610 | 76.8 | 6.9 |
| Intermediate | Bravo | 1276 | 190.6 | 8.6 |
| Intermediate | Chwalri | 323 | 116 | 21.1 |
| Intermediate | Delta | 520 | 147.6 | 16.5 |
| Intermediate | Echo (board only) | 701 | 191.9 | 15.9 |
| Senior | Foxtrot | 764 | 190.6 | 14.4 |