Gyeongbokgung Palace

Chief Gatekeeper Changing Ceremony at the Gyeongbok-gung Palace
Every hour on the hour from 10 am to 4pm, the chief gatekeeper changing ceremony has been continued, depicting the time of Joseon Dynasty which symbolizes safety of the kings, security of the nation, and guiding of the prestige. The Constant expressionless face expression and sobriety mood of the chief gatekeepers at the ceremony stimulates the foreign tourists' interests who comes to Seoul, Korea.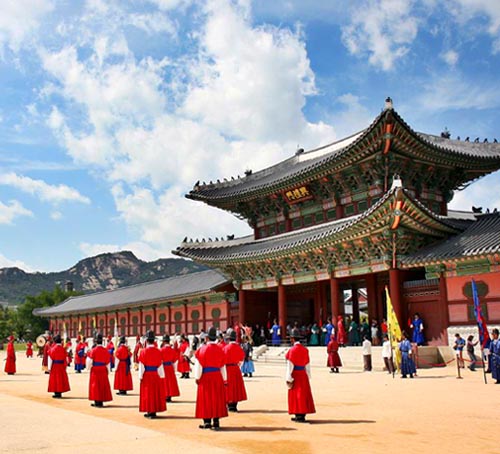 Gyeongbok-gung Palace
The choicest tour location in Seoul, Korea for foreign tourists. Gyeongbok-gung Palace is the starting point of 500 years of history in Joseon Dynasty. You will defiantly enjoy a stroll around the place feeling the quiet and peaceful mood. If you want to know the history of Korea properly, you should visit this place that is located in the Middle of Seoul.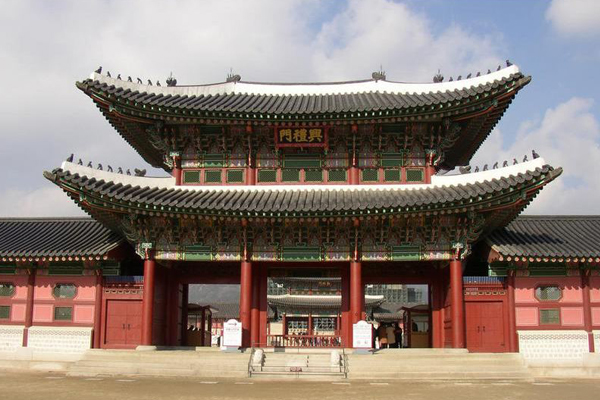 Insa-dong
When foreign celebrities visit Seoul, Korea, they always stop by this area; the closest Korean styled avenue, this is Insa-dong. Not only hundreds of art galleries are there but, dozens of traditional handcraft shop, antique art markets, and traditional tea houses. Because of the development of modern civilizations, many foreign Coffee shops and restaurants have launched around the place, yet this area unconventionally use Korean on their gate signs. The traditional Hanja is seen all over in this traditional area of Seoul.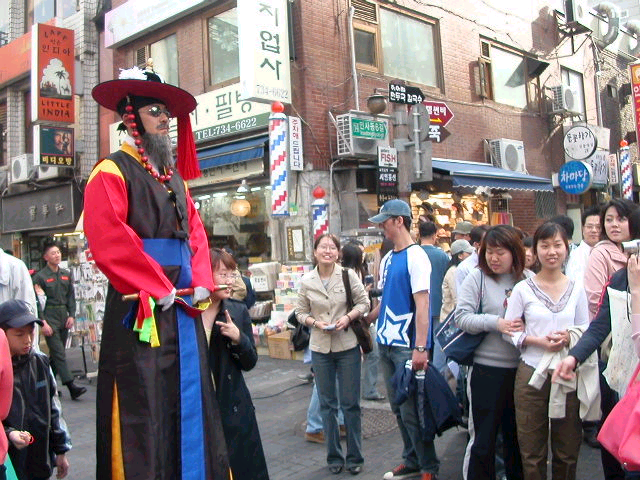 Cheonggyecheon

Cheonggyecheon (Hangul: 청계천) is a 10.9 km (7.0 miles) long, modern public recreation space that runs through downtown Seoul, South Korea. Created as part of an urban renewal project, Cheonggyecheon is a restoration of the stream that was once there during the Joseon Dynasty (1392-1910). Waters from Namsan, Inwangsan and Bugaksan (Mountains) gather together at the center of Seoul called Cheonggyecheon before it reaches at the Han River. However, it did not have enough water so, often times, it dried and overflowed. After the Korean WAR, A SLUM TOWN NESTLED ALONG WITH BOTH BANKS OF Cheonggyecheon. In 1955, it was covered with earth and an elevated road. In October 2005, the restoration work brought it back ito its old days in a modern version. Along with 5.8 km stream, there are 22 bridges and 9 fountains. Thanks to the revived Cheonggyecheon, the urban temperature of Seoul drops by over 10% and winds are being directed by the stream.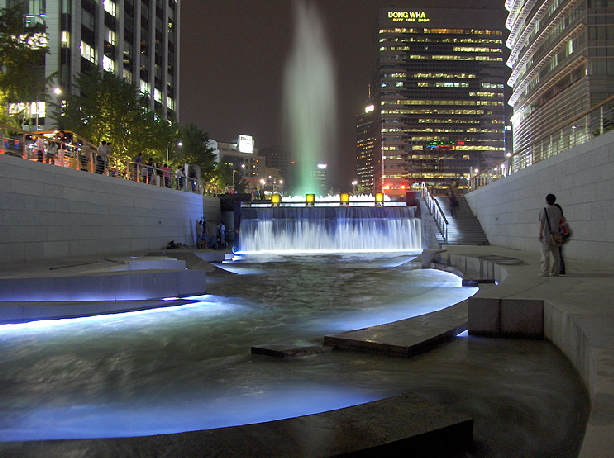 Myeongdong
Myeongdong is one of the largest shopping areas in Seoul, Korea. The first Catholic Church in Korea is also one of the most beloved places by foreign tourists. Let's go shopping for up-to date fashion items, cosmetics, and other various things. On a regular day, over 1,500,000 people pass through Myeong-dong which is full of shopping, youth, fashion, eateries and cafes' ALL THE YEAR ROUND. In this metropolitan area, you don't feel any separation from the global trend. Myeong-dong is now one of the global shopping mecca. Most outstandingly, board signs here accept foreign languages more and more.  If you haven't been here for a long time, you might be surprised at the large flagship stores of globally popular foreign and local brands. All the more unique shops are stationed to create vivacious streets. Foreigners love here and even stay several days taken out of their short itinerary. Myeong-dong has been designated as the tourist zone by Seoul Metropolitan Government.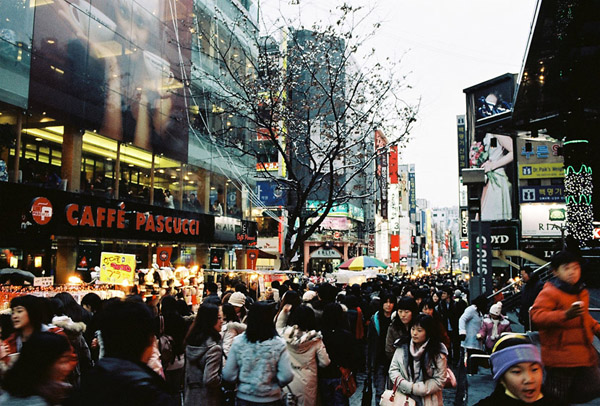 Namdaemun
Namdaemun Market is filled with all kinds of fun within Seoul from what to shop, eat, and see. From a wide variety of selling items for different prices and qualities, you never fail to find what you have in mind. Even street vendors offer rare items which give you a pleasant time to look for. Between shoppingin this city of Seoul, you can please your stomach with unique snacks and specialties. Anywhere between 450,000 and 500,000 of visitors come here on a daily basis. Namdaemun Market in Seoul is most famous for garments, especially, ladies one. On top of local retailers, its customers are from all over the world, South-east Asia, Americas and European countrie,s. According to a governmental statistics in 2008, 46.5% of foreign touristswho come to Seoul, Korea pay a visit to Namdaemun Market. Seoul City Government has designated it as a tourist zone. Closed on Sunday.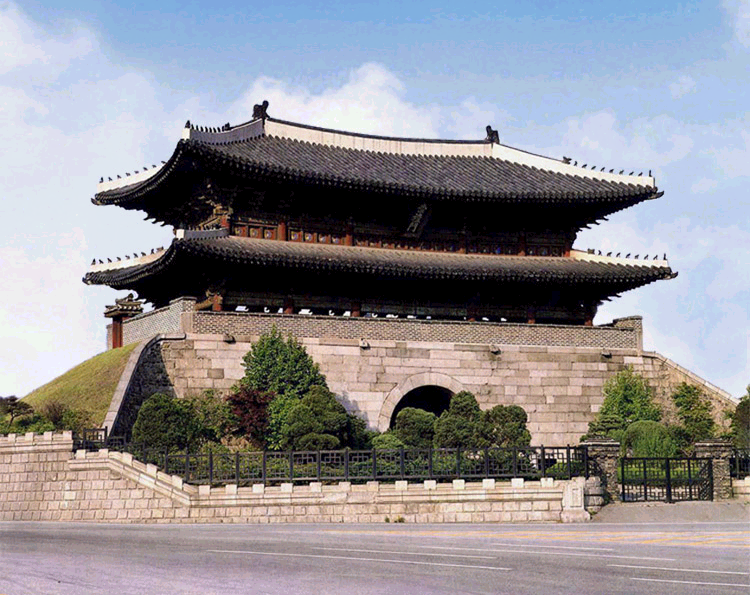 Dongdaemun

Dongdaemoon Market
Dongdaemoon Marketin Seoul is a big wholesale and retail market. You can purchase all items from the top of your head to the bottom of your toes in accessories, men's and women's clothing, and shoes for 20~30% discounted price. This place in Seoul became an essential course for foreigners' in our Korea tour, there are many spectacles and attractions to see.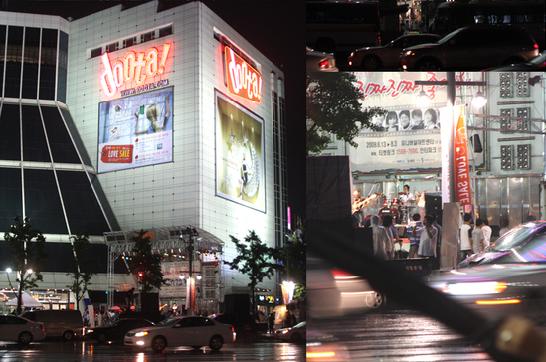 Dongdaemoon Design Plaza
Dongdaemoon Design Plaza grabs the attention of people from grandeur and sensual exterior.
This is a culture complex space in Seoul filled with trendy designs, also various concerts and performance continue to take place here.
It could be a fascinating course if you visit the 60 attractions at DDP according to its order, thoroughly understanding about this place in Seoul.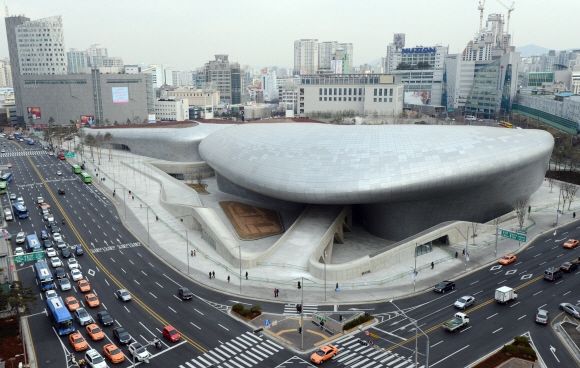 Itaewon
The global village inside Seoul. It is packed with foreigners from every corner of the world throughout the year. It used to be a small village of public officials living quarters in Joseon Dynasty. After the Korean War, shops for American soldiers mushroomed, which developed into a shopping and tourists town for foreigners afterwards. Half of the visitors here are foreigners so the streets are exotic and colorful.
Seoul even designated Itaewon as its first 'Special Tourism District,' to highlight it as a destination for internationals to enjoy a diversity of culture, shopping, and entertainment experiences. Due to the area's diverse inhabitants, Itaewon has become one of the most cosmopolitan areas in Seoul boasting restaurants, shopping and nightlife that are equally diverse and cater to international tastes, attracting many other foreigners and tourists. It is safe to say that Itaewon is almost better known by foreigners and non-Korean residents than Koreans.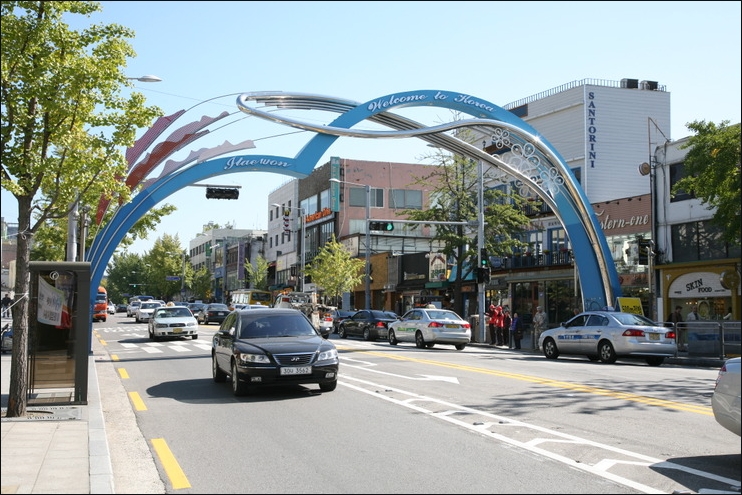 Namsan Seoul Tower
It was built in 1971 as a broadcasting tower and, with the extension of the observation deck, it was open to the public since 1980.
Seoul Tower opened to the public on October 15, 1980 and has since become a major tourist attraction.
If you have fully appreciate color-tainted maples until now, then this is the time for you to enjoy the night view of Seoul with various color of Neon-sign lights. You will fall in love with the various spectacular images and beauty of Seoul. The communication tower is approx. 237 meters tall, topping off at a half-kilometer above sea level. Once there, visitors can enjoy a spacious plaza and platforms affording panoramic views of Seoul. Take a closer look, however, and you'll see a safety fence that's covered in thousands of padlocks. These curious objects are symbols of love fastened by young couples. Inside
N Seoul Tower
is a café and three restaurants, including the revolving
N. Grill
. For some, the Teddy Bear Museum shouldn't be missed… but personally, the highlight is the fantastic Sky Restrooms on the observation level.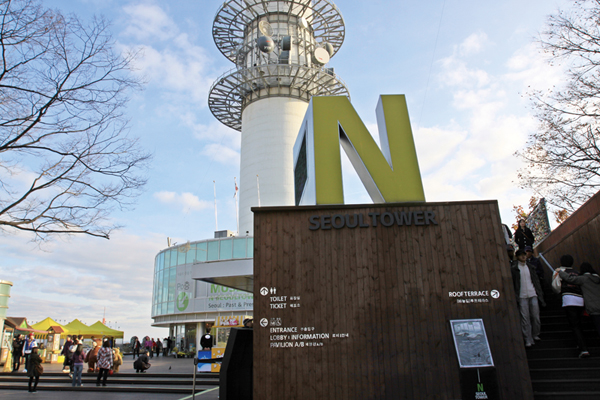 Lotter World
Lotteworld is the greatest mall of Seoul, Korea. 420 duty free stores and 225 name brand including 90 premium luxury shops have been launched in this mall. This mall is 47 times bigger than a soccer field/stadium. This multi-purpose complex including theme park, department center, Movie Theater, hotel, and Aquarium
Lotte World in Jamsil, Korea has a similar scale as Disneyland in U.S.A, Japan, and Edmonton in Canada. Though it is located in downtown Seoul, it is easy to find and visit. Especially it is one of the biggest indoor theme parks in the world, you can enjoy this place 365 days a year regardless of weather.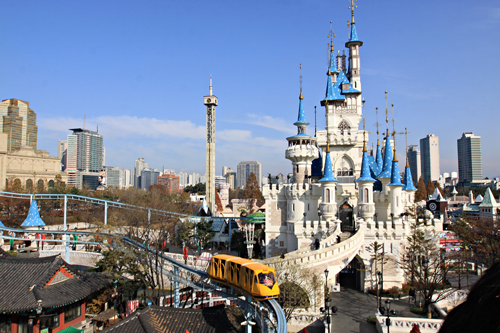 Aquarium in the Lotte World
They just opened an aquarium in Lotte World, Seoul Korea. There are about 5,500 marine creatures out of 650 species including 'beluga', a rare kind of a white whale because of its smiley face that looks like a person; the largest freshwater fish, 'pirarucu'; and the 'piranha' a carnivore fish. You can look at fishes from a river, from the coast, from the ocean, you will be walking along the flow of the ecosystem. You will have an interesting and meaningful time.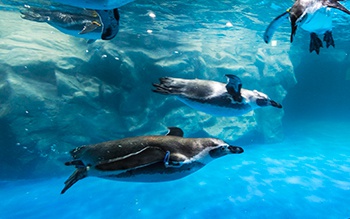 Hongdae Area
The Hongdae Area is a region in Seoul, South Korea near Hongik University, after which it is named. It is known for its urban arts and indie music culture, clubs and entertainments. The Hongdae area is known as a trendy cafe and nightlife area for students and is well-known for its indie scene, urban street arts, and underground musicians. Apart from indie art culture, Hongdae is also home to independent clothing stalls and vintage shops. As well, there are kitschy and eclectic theme cafes for characters and pets. What comes to your mind first when you think of Hongik Univ. area. Culture, youth, independent bands, freedom, underground culture, live, clubs, trends, nightmeals, amateur, experiments, individualism, style, ennnergy, communication, and diversity. There is a free market where aritists meet with the public and communicate through their artworks. Airtisits show their unique style to the audiences and the public appreciate and purchase the art. Since it open in June 2002 for the first time, it now openes every Satureday and attracts ever more people.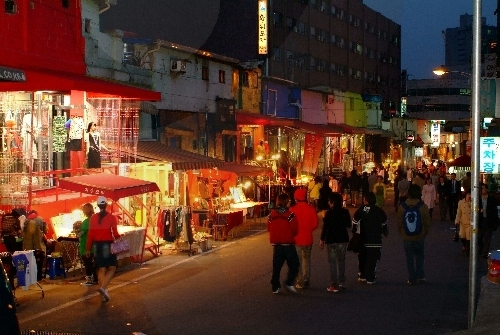 The 10 most popular activities in Seoul, South Korea
Seoul Samsung D'Light Electronics Show Room
To other electronics This showroom is located inside the headquarters of Samsung Electronics in Seoul is the most international arm of Korea's largest company. It is stuffed full of televisions, mobile phones and other electronic gadgets from Samsung's past, present and future. You'll be able to check your own laptop's content on gigantic screens, play online games from your mobile phone, and make use of whatever developments their designers have come up with in the last year or so.
Located within the Samsung Electronics building in Seocho-dong, Seoul, 'Samsung d'light' is a global exhibition space that showcases the latest product lineup by Samsung Electronics. The name d'light combines the words 'digital' and 'light' to correlate with the company's vision of being 'a guiding light to the digital world' and sharing the excitement and delight of digital technology through interaction with visitors. The 'd' also carries with it the connotation of 'dynamic,' 'dream,' and 'diversity.'
The three-storied exhibition space is not merely a display of electronic products, but a space of interaction that allows visitors to experience new life patterns through state-of-the-art digital technology categorized by theme. It is comprised of the digital lounge & shop (B1F), the mobile plaza (1F), and global gallery (2F) that features hands-on activities. Seoul Samsung D'Light Electronics Show Room opens at 10am-7pm Mon- Sat and admission free.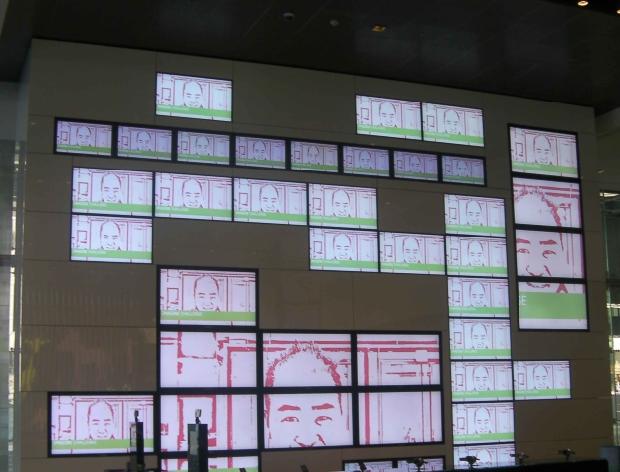 The Freshest Fish in Seoul, Noyrangjin Fisheries Wholesale Market

If you're ready for a look at Seoul Korea's tasty side, this is the place to go. The freshest wave of raw fish arrives at Noryangjin fish market, 6,000 square meters of floor space given over to edible wonders of the deep. Start with the wholesalers auctioning off their catches during the early hours of the morning, then follow the sellers to their shops – each one a hive of activity. The atmosphere is convivial: there's no hard sell, no pressure to buy, and haggling is part of the game. Meander around for long enough and you'll eventually want to buy some fish or king crab and head up to a nearby restaurant, where it will either be cooked or sliced and served up raw. It may sometimes feel like a reality show gone weird, but fortune does indeed favor the brave at Noryangjin, Seoul – where else will you be able to say you've tried sea cucumber? With not enough money at your disposal, you still have a great feast of sashimi and fish stew here at Seoul Noryangjin Fisheries Market. Amid fishy surroundings, you would feel you're somewhere at a port. Noryangjin Fisheries Wholesale Market is the largest of its own in Seoul Korea for the last 76 years and has always been close to ordinary people. I has every fish from anchovy to shark. The 24-hour-open market is living and vivid so you can witness the way how ordinary Koreans are leading their lives.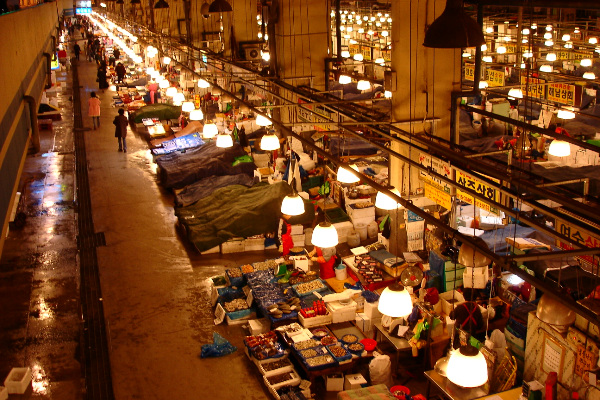 The greatest festival in Seoul, Korea; Rock Festivals

Until 2009, the Incheon-based Pentaport Rock Festival reigned supreme on the Korean rockers' calendar. Incheon Seoul Pentaport Rock Festival is a rock festival, which is hel annually in Incheon, South Korea for three days at the end of July. It is considered as one of the biggest live music dvents in Seoulth Korea. The festival covers various genres of music, but mainly rock music and electronic music. The name came from five main themes of the festival; music, passion, environmental friendly, DIY, and friendship  But some of the organizers split off after a disagreement and started a second, simultaneous event – the Seoul Jisan Valley Rock Festival. Valley Rock Festival (also known as VRF) is held annually on the last weekend of July. Sharing many artists, the festival is arranged by 9 Ent, which is Smash Corporation, and in close coordination with Japanese Fuji Rock Festival. In 2009 on the festival's maiden year, there were some controversies regarding the festival's split from neighboring Pentaport Rock Festival. However the festival's sponsor changed to Mnet media in 2010 and CJ E&M in 2011. VRF has been successful and has grown into one of the South Korea's biggest music festivals.
Since both festivals take place around the same time as Japan's Fuji Rock Festival, they've been able to draw big acts already on tour in Asia such as Belle & Sebastian, Pet Shop Boys and Oasis.
The most exciting and thrilling tour in Seoul, Korea: DMZ/JSA Tour

An unforgettable DMZ/JSA tour, you would not be able to experience on your own, the military area on the ceasefire zone. Here the South and North Korean army soldiers are standing face to face opposite of each other on a ceasefire line located at the same place. Take a visit to a thrilling and heightened tension tour around the area of DMZ/JSA South Korea Tour. A Heavily secured area where no one can visit without a special permit, where even Koreans cannot enter. It is one hour away from Seoul! Let's enjoy a historic tour taking you back into the mist of a fascinating history of Korea.
A four-kilometer-wide strip of land runs clean across the Korean peninsula from east to west, dividing the communist North and democratic south. It's known in English as the Demilitarized Zone or DMZ, though this is something of a misnomer – it is by far the most heavily fortified border on the planet, a fact that led to its memorable description by Bill Clinton as the 'scariest place on earth'. Yet, despite this, and despite its distance from Seoul (doable in a day trip), it's also one of the country's most popular tourist draws.
So, what's to see? Though various sights and lookout points can be reached by public transport, the most interesting sights are only accessible on a guided tour. Precise itineraries vary, but most hit the same spots: an observatory looking out over North Korea, a trip to one of the tunnels beneath the border apparently dug by North Korean infiltrators, and the famed Joint Security Area in Panmunjeom.
p>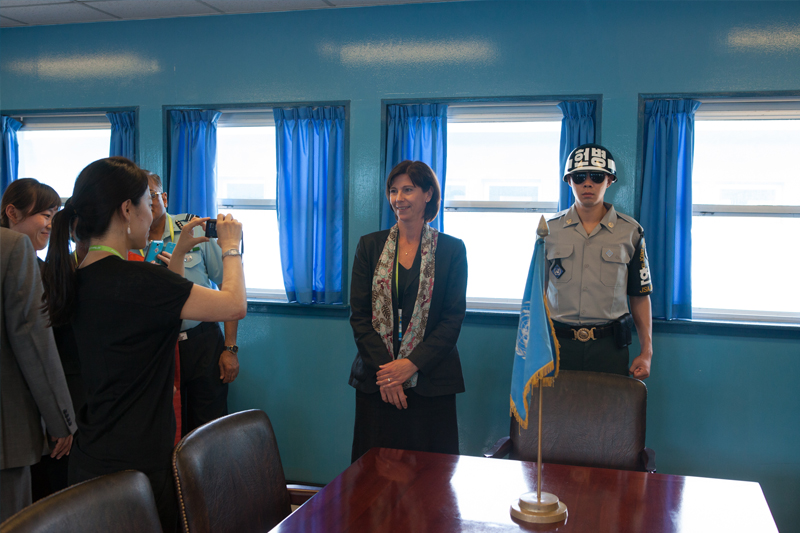 Korean Traditional Hot Bathhouse, Jjimjilbang
In Korea, the Jjimjilbang-Korean Spa is a place where one can not only enjoy the spa, shower, and sauna but also sleep overnight at an affordable price. They are a popular getaway for Korean families, couples, and friends. You can enter various heated rooms each designed with a particular theme. These are great places to sweat and relax.
In a Jjimjilbang-Korean Spa, you will also find many recreational facilities such as a snack bar, fitness club, PC bang, and noraebang. One can have a fun time in a Jjimjilbang-Korean Spa at any time, whether the weather is hot, cold, or rainy, or when one feels bored. Open 24 hours a day, Jjimjilbang-Korean Spa have already become well known among foreign travelers as a clean and affordable place to stay overnight and relax after an intense day of sightseeing. Join visitkorea as we visit two of Seoul's most famous Jjimjilbang-Korean Spa.
Dapsimni Antique Shopping Mall
The Antique Shopping Mall is 20 years old. It naturally developed as the scattered antique shops began to come here one by one. The Market looks like an ordinary building from outside. Once you get in, you will find over 150 shops just waiting for customers. They display various items from dolls, silver ornamental daggers, glasses to lamps, Also, large items like stone mortars, stone status and chests sit along with smaller counterparts. Prices vary but skillful haggling might give you a price off. Go for it. Shop s close at 6pm and this neighborhood is a little chaotic, so going early is the best choice.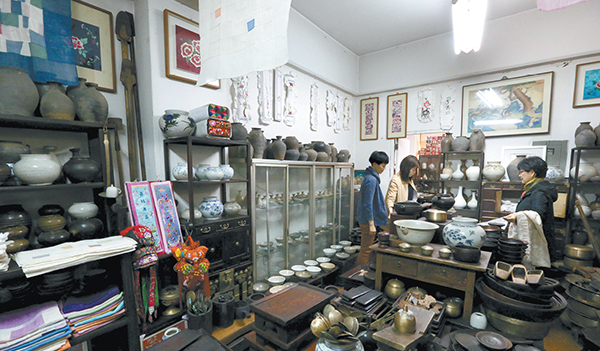 Seoul Korea's Wine Train Experience
Wine connoisseurs in Seoul, South Korea, can rejoice: A wine train tour makes the journey from the capital to the country's only wine region, Yeongdong, in the North Chungcheong Province. The three-hour ride to and from the Wine Korea vineyard gives passengers a relaxing, luxurious experience. Wine tasting, snacks and live entertainment are included, as are a buffet lunch, transportation and recreation fees.
Situated in Yeongdong (Chungcheongbuk-do), Wine Korea is the only winery in Korea that maintains a vineyard and produces the wine brand, Chateau Mani.
Beginning in November 2006, Wine Train run by Wine Korea offers a one-day train tour between Seoul and Yeongdong. Departing from Seoul Station, its passenger cars, themed Red/White Wine or Ginseng, boast an elegant café atmosphere. Above all, visitors can enjoy as much of the wine produced in Yeongdong as they want.
Upon arriving at Yeongdong, visitors head to Wine Korea, enjoy foot massages in wine, participate in making natural cosmetics, and tour the wine production facilities. The tour goes on to visit Ginseng Exhibition Hall in Geumsan and Traditional Medicinal Herb Market. High quality wine, wellbeing grape juice, and Chateau Mani cosmetics are also available online for purchase.
Hangang River Cruise
Hangang River Ferry Cruise is one of the best ways to enjoy the scenery around Hangang River that flows through Seoul. Cool wind from the river, the surrounding scenery, which get more beautiful in the evenings, are the rewards the ferry cruise can offer you.

There are 3 places to get on or get off the ferries: at the Yeouido, Jamsil, and Ttukseom docks. All rides run on two kinds of cruise schedules. One cruise leaves the dock, goes on the Hangang River cruise course, and comes back. The other course starts from either Yeouido or Jamsil and ends at Jamsil or Yeouido. Some ferries make a stop at Ttukseom.

On the cruise, you can see Hangang River's beautiful scenery, the surrounding islands, Jeoldusan Park, the 63 City Building, N Seoul Tower, Jamsil's Multi Sports Complex, and other famous tourist spots. The cruise is often used for weddings, birthday parties, music performances and other events. The live concerts connect piano playing with singing voices, and will live on in memories. During the summer, the docks also offer motor boat rentals.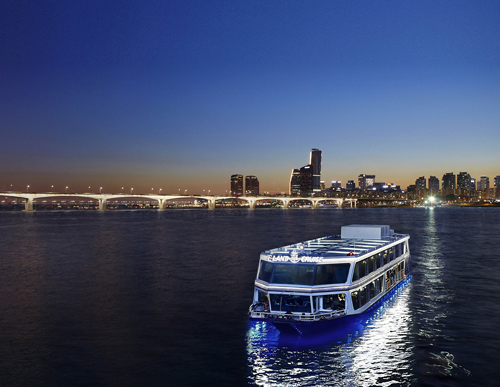 Nonverbal performance, NANTA in Seoul, Korea

Since their first performance in 1997 at the Edinburg Fringe Festival NANTA, they received it's first award for best performance. This now world famous nonverbal performance 8,100,000 people the largest audiences in Korean history. Since its first debut NANTA performance has been on the road of success around the world. In 2994 NANTA finally made an appearance on New York's Broadway. This opportunity opened up new doors for Korean culture and performances.
Now about 7,000,000 people around the world are enjoying NANTA's spectacular performances. NANTA performances can also be seen at three different theater locations within Korea. NANTA also received an award for Best Urban program in 2998 and is also being highly recommended by tourist and locals alike.
"This is a must see performance" As 750, 000 foreign visitors per year come to Korea to enjoy NANTA and Korean culture.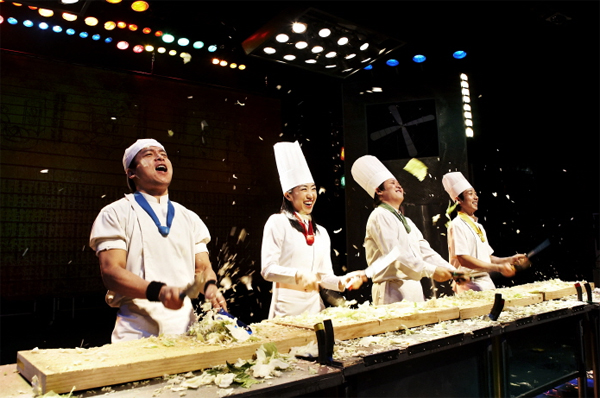 Seodaemun Prison History Hall

The Seodaemun Prison was built in the late days of Daehanjeguk under pressure by the Japanese colonists and, for 80years since then, witnessed the turbulences and sufferings which Koreans endured. It consists of 7 prisons buildings with a watch tower, torture chambers, an execution ground where Korean patriots of the independence movement where martyred.
The execution ground vividly reminds you of the excruciating ordeals that Korean patriots went through. At the entrance of the execution ground, there is a "Wailing popular" where death-row inmates dropped their last tear. The Japanese wardens threw away the bodies of the patriots through Sigumun, meaning a bloody gate, beside the execution ground.